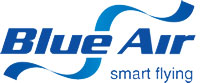 In December 13th, 2004 Romanian aviation goes through a historic moment: Blue Air is launched, the first Romanian airline company, with 100% private equity.
The company was founded with the desire to create a safe, comfortable and affordable flight alternative. It was a turning point – for the first time in Romania, a company was offering passengers inexpensive flights to the most important destinations in Europe.
Cargo accepted by Blue Air must meet the following requirements:
- bulk cargo only, max 149 kg / piece
- maximum dimensions 175 x 75 x 75 cm
- dangerous goods and valuable cargo are not accepted
Blue Air operates direct flights to its destinations, having a transit time of only few hours.
The "low cost" concept is successfully applied for passengers as well as for air freight by Blue Air.
Blue Air identification information:
IATA code / 0B;
ICAO code / JOR;
AWB code / 475
Blue Air destination airports are the following:
| Aeroport | Cod IATA |
| --- | --- |
| BARCELONA | BCN |
| BERGAMO | BGY |
| BRUSSELS | BRU |
| BOLOGNA | BLQ |
| BRUSSELS | BRU |
| DUBLIN | DUB |
| CATANIA | CTA |
| LARNACA | LCA |
| LISABON | LIS |
| LUTON | LTN |
| MADRID | MAD |
| MALAGA | AGP |
| NICE | NCE |
| ROME | FCO |
| STUTTGART | STR |
| VALENCIA | VLC |
| VENICE | VCE |