OFFER OF WOODEN & PLYWOOD SHIPPING CRATES ISPM15
DOUANE GROUP offers folding crates made of plywood and ISPM15 heat-treated wood for safely shipping your cargo.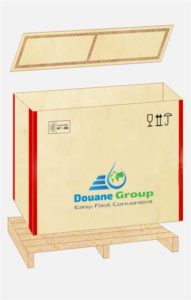 Advantages of using our crates:
– accepted everywhere, being marked with ISPM15 heat treatment mark
– they are stackable
– they are lightweight, reducing transport costs compared to classic wooden boxes
– they protect very well the transported goods
– they can be assembled and mounted easily and fast
– they can be stored easily before and after use and need a small space, being foldable
– they are available in nine sizes
The DGRO crates are perfect for use in LCL groupage shipping and air shipping and are manufactured by the Romanian company MOB VIP SRL, DGRO's partner in professional wooden packaging.
Features and prices of DGRO plywood and wooden folding crates:
* The prices do not include VAT
** Delivery is included to any destination in Romania, in the coverage area of our courier.
Code
Outer dimensions
L x l x H
Interior dimensions
L x l x H
Number of beams
Beam's dimensions
l x H
Plywood thickness
Weight
Payload
Price
-
cm
cm
buc
mm
mm
kg
kg
EUR/pc
PF1
42 x 38 x 28
40 x 35 x 21
2
40x22
6
5
70
27
PF2
60 x 40 x 36
58 x 38 x 26
2
50 x 50
6
7
150
30
PF3
60 x 40 x 56
58 x 38 x 46
2
50 x 50
6
9
200
33
PF4
80 x 60 x 50
78 x 58 x 34
3
50 x 100
9
19
300
37
PF5
80 x 60 x 70
78 x 58 x 54
3
50 x 100
9
22
400
64
PF6
120 x 80 x 50
118 x 78 x 34
3
50 x 100
9
33
650
83
PF7
120 x 80 x 70
118 x 78 x 54
3
50 x 100
9
35
1000
87
PF8
120 x 80 x 52
118 x 78 x 34
9
-
9
37
1000
91
PF9
120 x 80 x 90
118 x 78 x 72
9
-
9
47
1200
127
For ordering the shipping crates please fill in the following form: