As appointed cargo agents for Blue Air, KLM, LOT, Qatar Airways and Turkish Airlines we offer our services for live animals transportation by air.
Animals have been transported by air since the early 1930's. In today's modern world, carriage of live animals by air is considered the most humane and expedient method of transportation over long distances.
With the proper regulations related to live animals transportation by air, IATA secures the  safety and comfort of your animal during the entire voyage.
IATA's Live Animals Regulations (LAR) is the worldwide standard for transporting live animals by commercial airlines. Whether it is a pet, an animal transported for zoological or agricultural purposes or for any other reason, the objective of the LAR is to ensure all animals are transported safely and humanely by air. The 42nd edition of the regulations came into effect on 1 January 2016.
Following you will find some guidelines for shipping your favorite cat or dog safely and in good comfort. All the below are extracted from IATA's official website www.iata.org.
Only small dogs and cats can go in the cabin. Some airlines may not even allow them in, and will transport them as special baggage in a heated and ventilated hold. Do not worry, cats and dogs actually travel better this way because it is quieter and they will rest in a darkened environment.
It is important you purchase the right sized container for your animal. Airlines use the following indications to ensure the animal has enough space to turn about normally while standing, to stand and sit erect, and to lie in a natural position.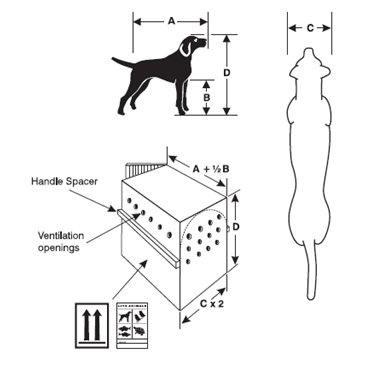 The data presented above gives a guideline for ascertaining the correct size for a container. They relate to an animal standing in a natural position.
The calculated dimensions are internal container dimensions.
A = length of animal from tip of nose to base/root of tail.
B = height from ground to elbow joint. A+1⁄2 B = length of container.
C = width across shoulders or widest point (whichever is the greater). Cx2 = width of container.
D = height of animal in natural standing position from top of the head or the ear tip to the floor
(whichever is higher) / height of the container (top flat or arched)
Minimum internal container dimensions:
A + ½ B = Length  C x 2 + Width  D = Height
Snub nosed breeds require 10% larger container
Notes:
Measurements A, B, C and D for determining the container dimensions must related to the largest animal.
The width of the container being calculated as:
Two animals: C x 3
Three animals: C x 4
The height and length are determined the same as for a single animal.
Please note that IATA does not certify, approve, endorse, or sell any particular pet container manufacturer, brand , make, or model. Equally so, IATA does not offer, solicit, endorse, or approve any particular pet or puppy transport or relocation services, regardless of whether these be offered via email or the internet. Readers should pay attention to fraudulent offerings that claim the opposite.
We offer kennels that comply with IATA LAR in our shop here.
Food and water containers (troughs) accessible from outside the container are required. The carrier, or government agency, may require that additional food be provided in a pouch attached to the container with feeding instructions.
The United States Department of Agriculture (USDA) Animal Welfare Act (AWA) states that "no more than two live puppies or kittens, 8 weeks to 6 months of age, that are of comparable size and weighing 20 lb. (9 kg) or less each, may be transported in the same primary enclosure via air carrier." This is a good practice to follow for all animal shipments, no matter what country they are traveling in.
Remember, animals may become stressed and aggressive when traveling by air and should not be placed in the same container unless they are young puppies or kittens. Animals which share the same household may become stressed and aggressive towards each other when traveling by air.
The shipper and the consignee must check that the animal is accompanied by all the documents requested at destination, as each country might have its own regulations related to live animals.
The shipper must fill in and sign Shipper's Certification for Live Animals in two copies.
Advices for preparing the pet for its journey:
Train your animal to its new surroundings
Let your pet become familiar with the crate or kennel a few weeks or months before your planned departure. Purchase one in advance and get your animal used to being confined in it. Remember taking an animal out of its natural environment or surroundings is by definition stressful.
Animals behave perfectly fine when accustomed to the kennel or crate they are transported in. As a responsible pet owner, this responsibility is often overlooked.
It has been a long standing practice of IATA and its constituent carriers to discourage the use of sedatives and tranquilizers in animals to be transported either as cargo or as cabin baggage due to the potential for adverse effects during transport.
Reduce the quantity of food the day before but give it enough water
Take your dog for a walk before leaving for the airport and again before check-in
A light meal 2 hours before tendering the animal to the carrier will help to calm it and is a legal requirement in the United States.