Conditions and documents needed for import of household goods and personal effects in USA
According to official Customs and Border Protection site,  if you are not traveling with your personal and/or household goods into the U.S., the Customs and Border Protection the CBP Form 3299 "Declaration For Free Entry of Unaccompanied Articles," must be completed.
Note: the statement that the goods are "household effects" is not enough information. The complete inventory of imported goods will be treated as the packing list and must be provided to CBP upon request.
Your relative or friend can clear your goods on your behalf.  For that, you should give your relative or friend power of attorney by writing a notarized letter authorizing them to clear the goods on your behalf.
In addition to a notarized letter, your friend or relative should have following on hand:
- Itemized list of all goods entering the U.S.
- Copy of your legal status in the U.S. (such as; US Passport; Immigrant documents; LPR Card; US visa etc...)
- CBP Form 3299 is required.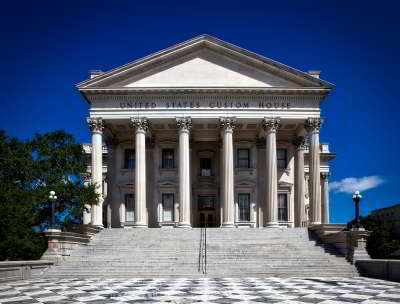 Household and personal effects
Household effects are furniture, dishes, linens, libraries, artwork and similar household furnishings for your personal use. In order to avoid paying duty on these items, the articles must have either been available for your use or used in a household where you were a resident for one year. And are not intended for any other person or for sale.
Personal effects are items that belong to and are used by one person, such as wearing apparel, jewelry, photographic equipment and tape recorders. They cannot be entered as household effects. As with everything entering the US, these items will still be subject to inspection by Customs and Border Protection officers.
Personal and household effects entitled to duty-free entry need not accompany you to the United States. You may have them shipped to your U.S. address at a later time if you choose. Your shipment of personal and/or household goods must be cleared through Customs and Border Protection (CBP) at its first port of arrival unless you have made arrangements with a foreign freight forwarder to have your effects sent in CBP custody in-bond from the port of arrival to a more convenient port of entry for clearance.
CBP will not notify you that your goods have arrived. It is essential either that carrier / the agent at destination notify you that your goods have arrived in port, either you should track your consignment and clear yourself with CBP - otherwise after 15 days, they will be taken to a general order warehouse and may be sold at auction after six months.
Warning for containerized ocean freight
For cargo arriving to the United States by vessel, The Import Security Filing (ISF), which is also commonly known as 10+2 is required to be submitted to U.S. Customs and Border Protection (CBP) no later than 24 hours prior to the cargo being loaded on the vessel destined to the United States!
CBP may issue liquidated damages of $5,000 per violation for the submission of an inaccurate, incomplete or untimely filing.
Importer Requirements: ISF Importers, or their agent, must provide eight data elements, no later than 24 hours before the cargo is laden aboard a vessel destined to the United States. U.S. bound Cargo (Includes FTZ and IT): requires the electronic filing of an Importer Security Filing (ISF) comprised of 10 data elements. Those data elements include:
• Seller
• Buyer
• Importer of record number / FTZ applicant identification number
• Consignee number(s)
• Manufacturer (or supplier)*
• Ship to party *
• Country of origin *
• Commodity Harmonized Tariff Schedule of
Two additional data elements must be submitted as early as possible, no later than 24 hours prior to the ship's arrival at a U.S. port. These data elements are:
• Container stuffing location; and
• Consolidator